30/30*Day 8=Outfit 8
I got a digital camera from my brother! But, I still need a memory card reader USB port. I'm getting there though! For now I'm using my Red Delicious. Hey, it's Apple Cup this weekend! Bottom of the barrel? No, Huskies have Bowl contention. Anyway, I digress as usual.
I don't like to look at the camera.
I might break it. No really, I might
walk up to it and break it.
Desi always likes to take a picture after
I tell him "That's good!" and I start walking
toward him. Insert Monkey face in blur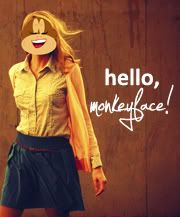 Hello, Monkeyface! said we're free
to use monkey. Thanks! I don't
have Photoshop and I don't know
if I could Snag-It very well.

Taking a picture while walking again
 
Earrings match top (which you could
see better with a better camera)


"Hi"

I ended up changing up my outfit by using the scarf as a functional belt because I didn't like how it looked (plus my jeans were falling down). I felt all out-of-sorts so I tucked in my tops. I will try to get a pic posted of the new look. Maybe in tomorrow's post. Maybe with a real camera.
Hair: Redken Fresh Curls Spray to freshen up on non-hairwashing day
Lips: I keep changing it throughout day
Earrings: Little Charm (Etsy Shop)
Ring: Rudy & Tuge (Rudy & Tuge)
Cream ruffly top: Studio (Macy's)
Floral ruffle top: Romy (Romy)
Open-front dusty rose cardi: Caslon (Nordstrom)

Jeans: Marc by Marc Jacobs (Nordstrom Rack)
Tomorrow: Moses the Junior Steamboat Lives!